Installation of Co-Generation Plant for On-Site Energy Supply in Motorcycle Factory
Representative Participant

Nippon Steel & Sumikin Engineering Co., Ltd.
Partner Participant: NS Plant Designing Corporation, NS-OG Energy Solutions (Thailand) Ltd.
Registered
Active
Outline of GHG Mitigation Activity
A co-generation plant, which mainly consists of a 7MW gas engine and heat recovery steam generator, and high efficiency centrifugal chiller are installed in a motorcycle factory located in a suburb of Bangkok by the local subsidiary (NSET *1) of the Japanese representative company (NSENGI *2) . NSET owns and operate this plant, and supply energy(electricity, steam, chilled and hot water). Therefore, the factory can reduce GHG emission.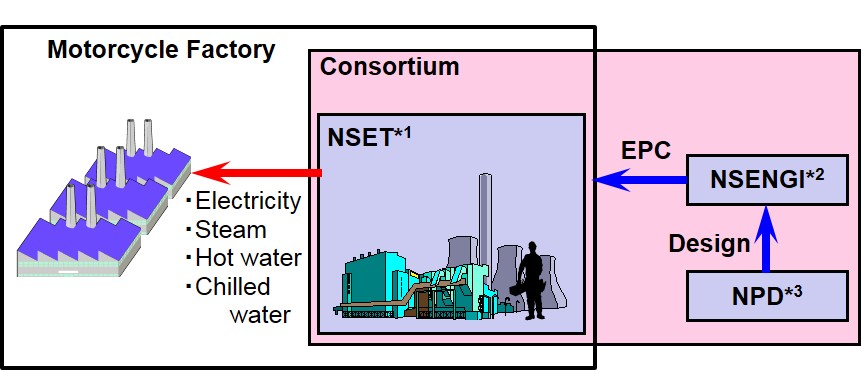 Expected GHG Emission Reductions
7,262 tCO2-eq./year
CO2 emission reduction by co-generation + CO2 emission reduction by centrifugal chiller
= [(Project Electricity Generation x Grid Emission Factor) + {(Reference Natural Gas Consumption – Project Natural Gas Consumption) x Natural Gas Emission Factor}] + {(Reference Chiller Electricity Consumption – Project Chiller Electricity Consumption) x Grid Emission Factor}
JCM Methodology
| Methodology No. | Title | Methodology Proponent |
| --- | --- | --- |
| TH_AM005 Ver2.0 | Energy Saving by Introduction of High Efficiency Non-Inverter Type Centrifugal Chiller | Nippon Koei Co., Ltd |
| TH_AM009 Ver1.0 | Installation of gas engine cogeneration system to supply electricity and heat | Institute for Global Environmental Strategies |
Progress
JCM Project Registration
| Reference No. | Project Title | Registration Date |
| --- | --- | --- |
| TH013 | Installation of Co-Generation Plant for On-Site Energy Supply and High Efficiency Non-Inverter Type Centrifugal Chiller in Motorcycle Factory | 17 Jun 22 |