Introduction of PV-diesel Hybrid System at Fastening Manufacturing Plant
Representative Participant

YKK Corporation
Partner Participant: YKK Bangladesh Pte Ltd.
Registered
Credit issued
Active
Outline of GHG Mitigation Activity
This project introduces a hybrid solar-diesel power system to a garment fastener manufacturing plant, which currently uses captive diesel power generators.
 Normally, the share of a solar power generation to a capacity of a diesel generator is technically limited to about 20% because of the limitation caused by power-variation of photovoltaic module arrays. However, the fuel save controller used in this system enables the percentage to be raised up to 60% thanks to electricity control, achieving a greater reduction of fuel consumption by the diesel generators.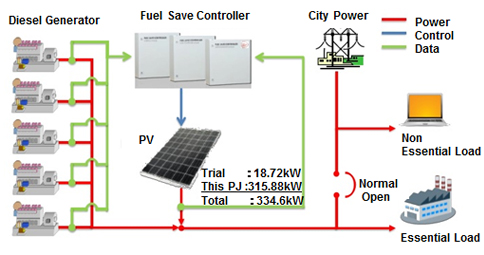 Expected GHG Emission Reductions
226 tCO2-eq./year
= PV generation (a)
    × Reference emission factor (b)
= 425.40 [MWh/year] × 0.533 [tCO2/MWh]
JCM Methodology
| Methodology No. | Title | Methodology Proponent |
| --- | --- | --- |
| BD_AM002 Ver1.0 | Installation of Solar PV System | Institute for Global Environmental Strategies |
Progress
JCM Project Registration
| Reference No. | Project Title | Registration Date |
| --- | --- | --- |
| BD004 | Introduction of PV-diesel Hybrid System at Fastening Manufacturing Plant | 04 Apr 19 |
Issuance of credits
| | Reference No. | Monitoring Period | Date of JC decision on notification | Amounts of Credits Issued |
| --- | --- | --- | --- | --- |
| | BD004 | 01 Jun 16 - 31 Jul 19 | 28 Mar 22 | 355 |