Solar PV System for Schools Project
Representative Participant

Pacific Consultants Co., Ltd.
Partner Participant: InterAct Inc., Palau Adventist Schools
Registered
Credit issued
Active
Outline of GHG Mitigation Activity
A grid-connected solar PV system will be installed at two sites. Palau Seventh-Day Adventist Elementary School (Site A) and Palau Mission Academy (Site B) shall have a 51.675kW and 103.350 kW system respectively. The generated power will mainly be self-consumed. On school holidays, the power will be fed into the grid using the net-metering scheme. A remote monitoring system to monitor the performance of the system will also be installed.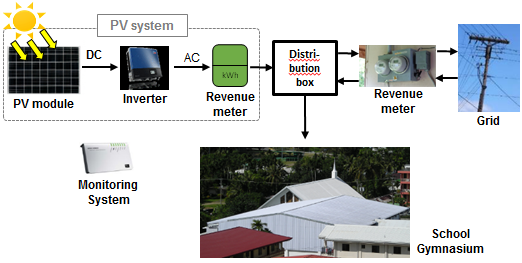 Expected GHG Emission Reductions
111 tCO2-eq./year
= 発電量(a) × リファレンス排出係数(b)
= 209.36 [MWh/年] × 0.533 [tCO2/MWh]
JCM Methodology
| Methodology No. | Title | Methodology Proponent |
| --- | --- | --- |
| PW_AM001 Ver1.0 | Displacement of Grid and Captive Genset Electricity by a Small-scale Solar PV System | Pacific Consultants Co., Ltd. |
Progress
JCM Project Registration
| Reference No. | Project Title | Registration Date |
| --- | --- | --- |
| PW002 | Small Scale Solar Power Plants for Schools in Island States | 12 Jul 16 |
Issuance of credits
| | Reference No. | Monitoring Period | Date of JC decision on notification | Amounts of Credits Issued |
| --- | --- | --- | --- | --- |
| - | PW002 | 08 Feb 16 - 31 Jul 17 | 30 Jan 18 | 145 |