Project for Assistance to Develop an Effective Waste Utilization System with Citizen Cooperation in Vientiane Capital, Lao PDR
Vientiane Capital, the capital of Laos (approximate population: 800,000 as of 2015), is estimated to produce 350–650 tonnes of waste every day. Most of the waste collected in Vientiane is disposed of at a landfill site on the outskirts of the city, but the composition of the waste is becoming increasingly diverse in line with the rising living standards and changing lifestyles of the citizens. Thus, the waste now contains more materials that do not easily degrade in a landfill, including plastic containers such as PET bottles. With the growth of such non-degradable waste components, citizens are increasingly expected to participate in recycling through the 3Rs (reduce, reuse and recycle) and separate waste collection.
Commissioned by JICA since 2015, GEC has teamed up with the City of Kyoto, an environmentally advanced city with leading cases of waste management, to implement a project to develop in Vientiane Capital the participative separate waste collection system that proved successful in Kyoto.
Launch of a Kyoto Model for participative separate collection
In FY2017, the final year of the project, we sought to continue and improve the pilot waste separation project launched in November 2016 in model villages, and conducted environmental education activities to disseminate the practice and raise awareness of waste separation.
First, we evaluated the results of the three separation methods introduced in the model villages: (1) separate collection by the local government, (2) drop-off collection at designated public sites , and (3) group collection at the initiative of local residents. From among the three options, we decided to adopt the 'group collection at the initiative of local residents' in all of the four model villages as the method best suited for the present context. We also set up a Council for the Promotion of Separate Collection to encourage civic collaboration for waste separation. The tripartite Council, made up of citizens, government officials and private operators, met regularly to exchange views freely. The activity was considered crucial for continued implementation and improvement of collective waste collection. Those efforts culminated in the introduction in the four villages of a group collection practice modelled on Community Collection, a participative separate collection system adopted in Kyoto. Every month, each of the model villages designates a Sunday as the group collection day, when residents bring valuable wastes such as PET bottles and aluminium cans to a school or other specified site in the village. The sales proceeds of the wastes thus collected are distributed among the residents.
Environmental education for waste separation
In order to secure the understanding and cooperation of citizens for waste separation, we launched a full-scale environmental education programme for children from a long-term perspective. Last year, we sought to revise and enhance the programme by localising its content, building on the side reader on the environment (a picture book) and the demonstration class on environmental education introduced in the four model schools. As a result, the picture book now contains easier-to-understand words and expressions for local children. New teaching aids for teachers, including Teaching Guidelines, were also prepared to ensure effective use of the picture book in the environmental education class. We also filmed the demonstration class to produce a DVD for teacher training. We plan to distribute the teaching aids for environmental education to 100 public primary schools in Vientiane.
Training in Japan, etc.
In October 2017, we organised a training course in Kyoto. Seven trainees, including teachers of model primary schools and officials in charge of education and awareness-raising, were invited from Vientiane to receive lessons in environmental education and awareness-raising of citizens. They visited the Kyoto Municipal Syoran Elementary School to learn about environmental education in a Japanese primary school and share information on activities and environmental learning at school in Vientiane. Information was also provided on waste separation activities after school meals and typical 'dietary education' in Japan. The environmental side reader (a picture book) was also finalised in Japan, building on this field experience. In addition, we conducted third-country training in Thailand, a neighbouring country of Laos. Residents of model villages and waste collection private operators had an excellent opportunity to learn about best practices on community-based group collection.
Future expectations
At the final wrap-up meeting held in January 2018, Vientiane Capital announced its plan for continuing and expanding the waste separation pilot project. Flags depicting the mascot for the project will be distributed to the village offices and primary/secondary schools in the villages adopting the Kyoto Model of participative separate waste collection. It is hoped that one day, the mascot flags will be raised in all parts of the capital city.
Project outline
Name: JICA Partnership Program (special project for local revitalisation) Project for Assistance to Develop an Effective Waste Utilization System with Citizen Cooperation in Vientiane Capital, Lao PDR
Period: November 2015 to March 2018
Executing agencies in Laos: Vientiane City Office for Management and Service (VCOMS) Department of Natural Resources and Environment, Vientiane Capital (DONRE) Department of Education and Sports, Vientiane Capital (DOES)
Executing organizations in Japan: Global Environment Centre Foundation (GEC) City of Kyoto
Objective: The effective waste utilization system is established with citizen cooperation by appropriate understanding for waste management in urbanized area of Vientiane Capital.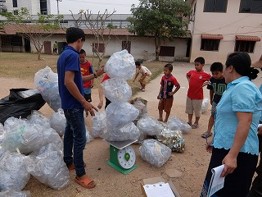 Kyoto Model for participative separate waste collection launched in four model villages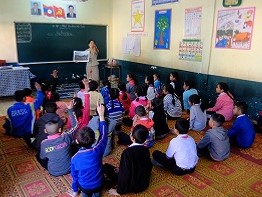 Environmental education class using a 'picture book' to raise awareness of the necessity for waste separation