Thermal Energy Supply and Methane Avoidance Project Utilizing Biomass mixed with Biogas from Wastewater in Fruit Processing Factory
Representative Participant

Dole Japan, Inc.
Partner Participant: BECIS Bioenergy (Thailand) Co., Ltd., Dole Thailand Ltd.
Not registered
Installing
Outline of GHG Mitigation Activity
This project aims to reduce greenhouse gas (GHG) emissions by replacing the existing fossil fuel boiler with an alternative heat generation process where biogas generated from wastewater discharged from the fruit processing factory of Dole Thailand in Hua Hin, Prachuap Khiri Khan Province is mixed and burned with coconut husk and other biomass in a newly introduced boiler.
Furthermore, the project avoids methane emission by introducing a new biogas generator to treat wastewater discharged from the factory into the effluent reservoirs at the factory site.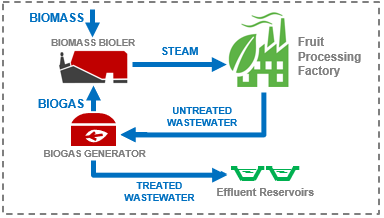 Expected GHG Emission Reductions
43,343 tCO2-eq./year
= Reference GHG Emissions
    – Project GHG Emissions
<Breakdown of GHG Emissions>
Fossil fuel replacement: 20,851 [tCO2/year]
Methane avoidance: 22,492 [tCO2/year]
Site of JCM Project