35MW Solar Power and Storage Battery Project in Suphanburi Province
Representative Participant

Kanematsu KGK Corp.
Partner Participant: Blue Solar Co., Ltd., Blue Solar Farm 2 Co., Ltd.
Not registered
Installing
Outline of GHG Mitigation Activity
This project installs 35MW solar power system and 36MWH energy storage system in Suphanburi province. The electricity generated by solar power utilizes storage batteries to supply electricity to the grid systematically. In daytime, the plant supplies electricity to the grid, and charged power is supplied to the grid during evening time. The project contributes to Thailand's target to reduce greenhouse gas (GHG) emissions by shifting power resource to renewable energy from fossil fuel.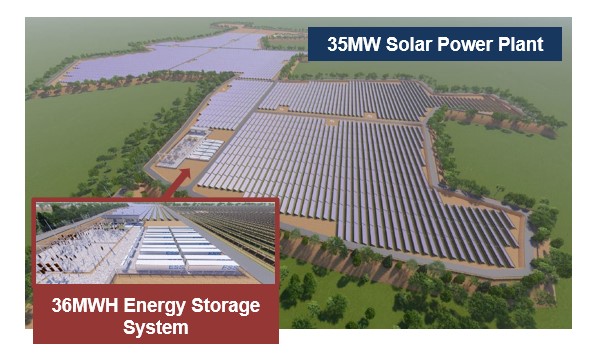 Expected GHG Emission Reductions
14,194 tCO2-eq./year
= (Reference CO₂ emissions)
– (Project CO₂ emissions)
・ Reference CO₂ emissions
= (Quantity of the electricity generated by the project) [MWh/year]
×Emission factor [tCO₂/MWh]
・ Project CO₂ emissions
= 0 [tCO₂/year])
Site of JCM Project