8MW Mini Hydro Power Plant Project in Maluku Province
Representative Participant

AURA-Green Energy Co., Ltd.
Partner Participant: Tamagawa Holdings Co.,Ltd, AURA Co.,Ltd, PT.GISTEC PRIMA ENEGINDO, PT.Sapalewa Prima Energindo
Not registered
Installing
Outline of GHG Mitigation Activity
In this project, 8 MW of small hydroelectric power generation (4 MW x 2 units) is introduced in the Sapalewa River, which flows through West Serum Regency, Maluku Province, and the generated electricity is sold to the state-owned electric power company (PLN) to reduce greenhouse gas (GHG) emissions.
This project contributes to the development of industry in addition to direct job creation in Maluku.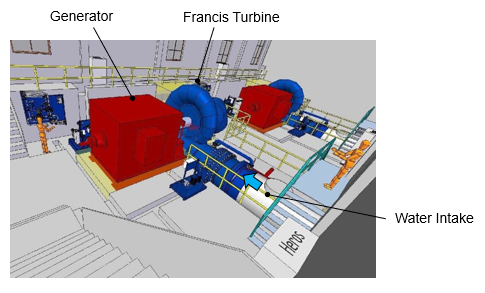 Expected GHG Emission Reductions
18,034 tCO2-eq./year
= reference CO2 emissions
 - project CO2 emissions
 ・Reference CO2 emissions
  = Quantity of the electricity generated by the project [MWh/year]
   x Emission factor [tCO2/MWh]
  = 18,034 tCO2/year
 ・Project CO2 emissions
  = 0 [tCO2/year]
Site of JCM Project