Introduction of Biomass Co-generation system to Food Factory
Representative Participant

DAIICHI JITSUGYO CO., LTD.
Partner Participant: THUAN HAI CORPORATION
Not registered
Installing
Outline of GHG Mitigation Activity
This project introduces a co-generation facility, which uses biomass (rice husks) as fuel to supply steam and electric power, at a food factory in Bien Hoa City. By introducing a biomass steam boiler and a steam turbine, a part of electric power currently purchased from the grid is replaced and greenhouse gas (GHG) emissions are reduced.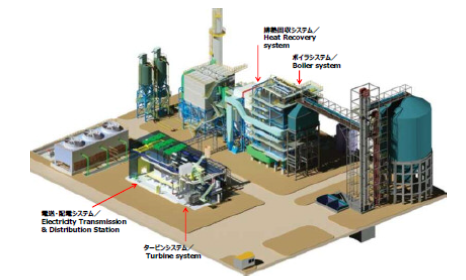 Expected GHG Emission Reductions
24,115 tCO2/year
= reference CO2 emissions
 - project CO2 emissions
 ・Reference CO2 emissions
  = Quantity of the electricity generated by the project [MWh/year]
   x Emission factor [tCO2/MWh]
 ・Project CO2 emissions
  = 0 [tCO2/year]
Site of JCM Project