Introduction of Energy Saving Equipment to Complex Buildings of Smart Urban Development Project in Yangon
Representative Participant

Yuko-Keiso Co., Ltd.
Partner Participant: Kajima Yankin PPP Company Limited
Not registered
Installing
Outline of GHG Mitigation Activity
KAJIMA Corporation together with Japan Overseas Infrastructure Investment Corp. (JOIN) is developing "Smart Urban Redevelopment Project" in central Yangon. This mixed-use development (consisting of offices, hotel, long-stay hotel and commercial facilities) aims to contribute to the diffusion of environmental technologies in Myanmar and encourage sustainable urban developments. This project introduces i] high efficiency chillers, ii] air conditioners with total heat exchangers, iii] hot water heat pumps and iv] Ventilation system at parking area.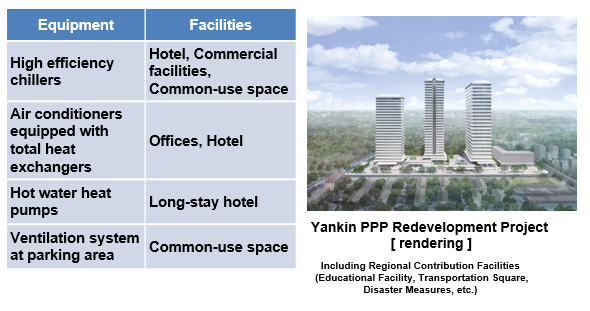 Expected GHG Emission Reductions
1,544 tCO2/year
=[Reference power consumptions
– Project power consumptions] x Emission factor (EF)
i] high efficiency chillers : 322 tCO2/年
ii] air conditioners with total heat exchangers : 239 tCO2/年
iii] hot water heat pumps : 738 tCO2/年
iv] ventilation system at parking area : 245 tCO2/年
Site of JCM Project