12MW Biomass Power Plant Project in Ache Province, Sumatera
Representative Participant

Aura Green Energy Co., Ltd.
Partner Participant: PT. Primanusa Enegi Lestari
JCM Project Cycle:Not registered
Status:Installing
Outline of GHG Mitigation Activity
This project aims to reduce CO2 emissions by implementing a biomass power generation utilizing residues such as Empty Fruit Bunch (EFB) discharged from palm oil factories, and to substitute renewable energy for grid electric power in Indonesia.
EFB etc. are collected by belt conveyors from a palm oil mill adjacent to the biomass power generation facility. The boiler incorporates a movable step grate stoker with an automatic ash removal function and an optimization control system of furnace temperature, which can suppress the occurrence of clinker peculiar to EFB.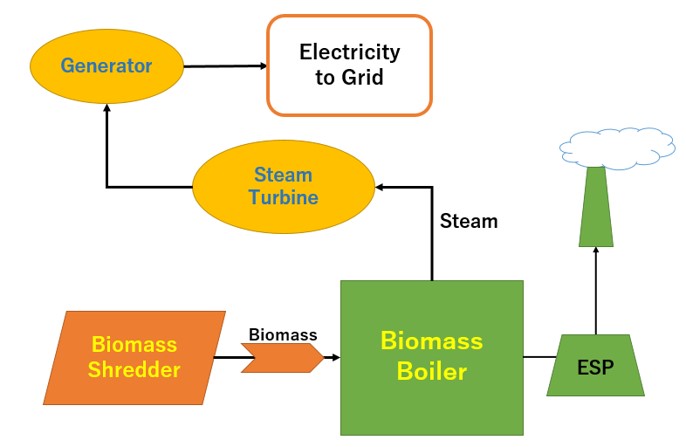 Expected GHG Emission Reductions
31,322 tCO2/year
Reference Emissions
= [Estimated annual energy generation] x [Emission factor of grid electricity]
=34,765 tCO2/year
Project Emissions
= CO2 Emissions from fossil fuel used by biomass power generation
 + CO2 Emissions from biomass transport
=3,443 tCO2/year