Energy Saving of Air-Conditioning System by Recovering Waste Heat from Engine in Textile Factory
Representative Participant

EBARA REFRIGERANT EQUIPMENT & SYSTEMS Co., Ltd.
Partner Participant:UNITEX COMPOSITE MILLS LTD.
Outline of GHG Mitigation Activity
Spinning mill factories in Bangladesh generally have in-house gas power generation system for stable supply of electricity. However, most of the factories don't exploit waste heat from the system.
This project replaces electric chiller, which consume a lot of electricity with sets of absorption chillers that utilize this waste heat as a heat source.
Thus reduces the power consumption of the factory, and contribute to reducing GHG emissions. By monitoring the generated chilled water, the amount of GHG reduction is calculated.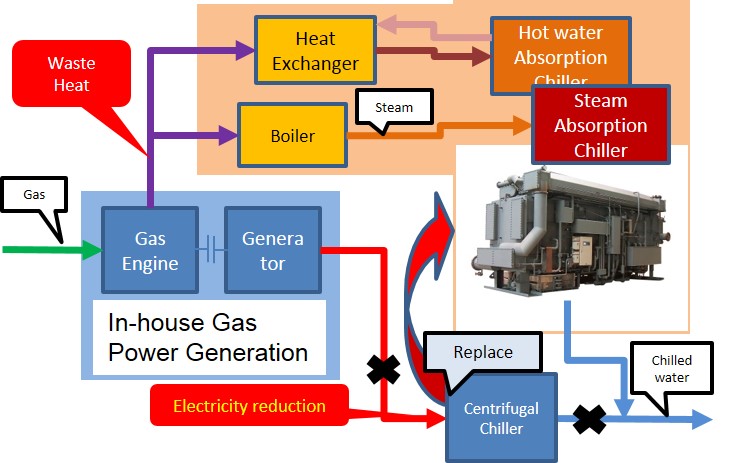 Expected GHG Emission Reductions
4,621[tCO2/year]
   = (Reference CO2 Emission) [tCO2/year]
       - (Project CO2 Emission) [tCO2/year]
= (( Reference Power Consumption) [MWh/year]
   -(Project Power Consumption)) [MWh/year]
× Emission Factor[tCO2/MWh]
=(11,164.8-3,952.5)[MWh/year]x0.6407[tCO2/MWh]
Site of JCM Project