GEC Side Event Information at SB42
The 42nd sessions of the Subsidiary Bodies (SB42) of UNFCCC will be held from 1 through to 11 June 2015 in Bonn, Germany and GEC, in collaboration with Ministry of the Environment, Japan (MOEJ) and OECC will host an official side event on 6 June and maintain exhibit booth throughout the period. The purpose of those activities is to promote the Joint Crediting Mechanism (JCM) which Japan and partner countries are jointly developing and implementing worldwide. Representatives from JCM partner countries such as Indonesia, Viet Nam and Palau as well as Thailand, a partner country candidate will be invited to the side event to exchange experiences and views toward the future development. You are all welcome to our side event and exhibit booth.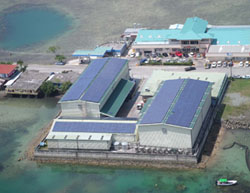 Recently registered JCM project in Palau,
you can see solar panel on rooftop of
the buildings.